Parallel Incantations at New York City Penn Station through September 19, 2022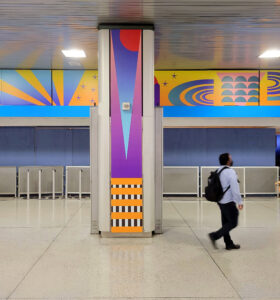 Art at Amtrak is a year-round public art initiative that brings compelling visual works to those who pass through New York Penn Station each day. Read more about it here on Hyperallergic.
Dahlia Elsayed's vibrant work for Art at Amtrak, "Parallel Incantations," surrounds the Penn Station waiting area with an illusion of infinite space. It pulls inspiration from ancient Egyptian temples and Islamic architecture, transforming the space with suggestions of expansiveness, air, and ambient light. As it evokes pilgrimage and ritual, this site-specific installation provides a poetic connection to a sense of deep time and travel.
Elsayed says, "For this project, I wanted to make a visual poem for a waiting area—the space between coming and going, and to create a place within a physical transportation hub for viewers to be transported sensorially. "