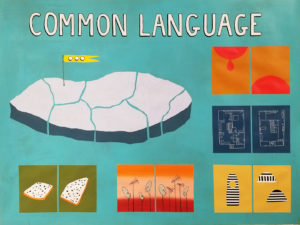 Solo Exhibition: Common Language
March 17 – April 17, 2020
Reception: March 24, 4:30 – 7:30pm
Lemmerman Gallery, NJCU
Hepburn Hall, Room 323
2039 Kennedy Blvd., Jersey City, NJ 07305
Common Language presents a series of works on paper and a site-specific ceramic installation by artist Dahlia Elsayed. Her allegorical landscapes use a symbolic vocabulary rooted in cartography, comics, and cosmology. Through Elsayed's visual narrative, the exhibition explores the possibilities of transcultural visual communication, the potentials and limits of language, and the ways in which image and text modify each other for alternative meanings.