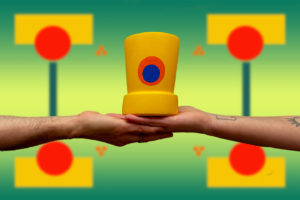 March 14 – April 25, 2020
Transformer Gallery, 1404 P Street NW Washington, DC
Opening Reception: March 14th, 5-8pm
Holding Patterns: April 4th, 2-4pm
Cultures in Contact: April 25th, 2-4pm
Pre-Sunset Pause: Every Thursday, 4-6pm
Transformer is proud to present
Which Yesterday Is Tomorrow?
, a rest stop for the future based on the past, by artists Dahlia Elsayed and Andrew Demirjian. This multi-sensory installation reimagines the Silk Road caravanserai as a potential site for the exchange of ideas and culture.
By drawing upon the vocabulary of social and sacred architecture from Southwest Asia and North Africa (SWANA), Elsayed and Demirjian – both diasporic artists from this region – create a space for engagement, pause, and reflection. Transformer's interior is completely reimagined – the walls, floors, and ceilings are embellished with vibrant textiles, rugs, and furnishings; a spatialized soundtrack composed of deconstructed folk instruments, and fragrant mists and Turkish coffee envelops the air. Elsayed and Demirjian create an alternate world intended to reconnect visitors with the senses, rituals, and mythologies that have been diminished in an age dominated by relentless commerce and time scarcity.
In a region that once thrived on the cosmopolitan and mutual interchange of ideas, Which Yesterday Is Tomorrow? conjures a fictive location where aesthetics and ideologies are exchanged freely, establishing an alternative to the historical narrative of colonization, crisis, and territoriality portrayed in Western media. In keeping with this approach, Elsayed and Demirjian have also invited and curated a group of designers, painters, sculptors, and poets to create mementos to contribute to the installation, establishing a space for re-connection for artists from the SWANA diaspora.